Red Deer Real Estate Market Update, September 2021
Is now the time to buy real estate in Red Deer?
A look at the numbers tells us the average sale price for September 2021 versus September 2020 is higher, sales volume is stronger, the days to sell is shorter, and the sale to new listings ratio is stronger.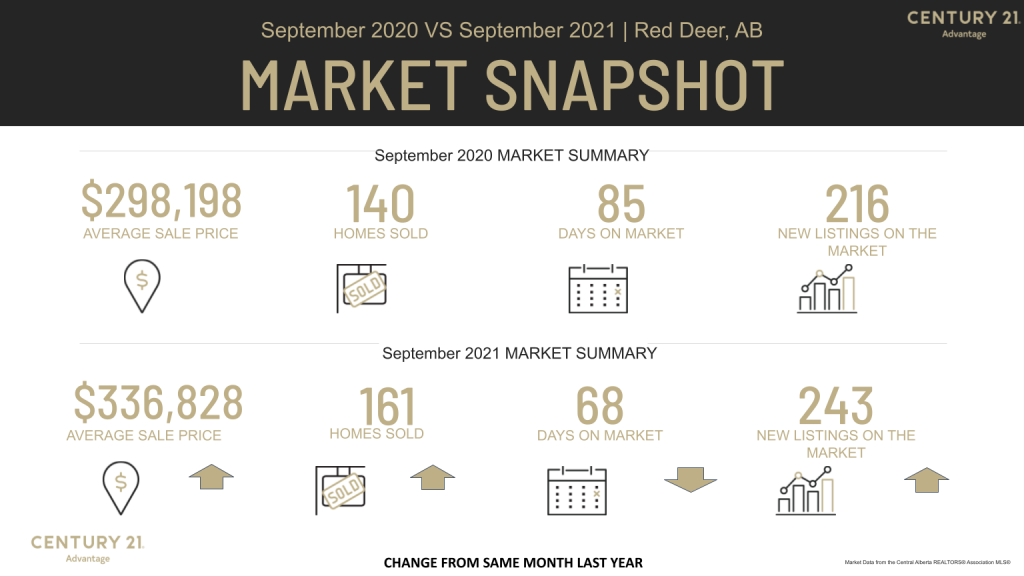 How is the market this year compared to last year overall?
A little deeper diver into the numbers shows us that year-to-date numbers echo the monthly numbers but are more pronounced.
(***Note 2020 March thru May market volume was the lowest seen in many, many years.  influencing the YTD numbers due to COVID lockdown).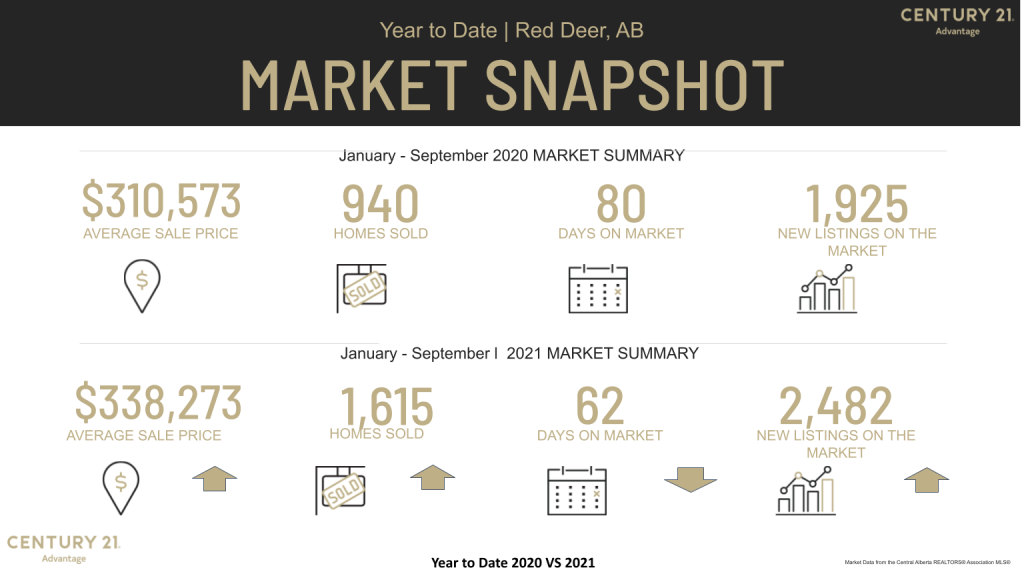 How strong was September 2021 compared to 2020?  
The sales volume in 2021 was the best sales volume we have seen since 2014!
An indication that the market is growing more positive, and the lowest point is behind us.  If you were trying to time the market, we are now in a gradual upward trend.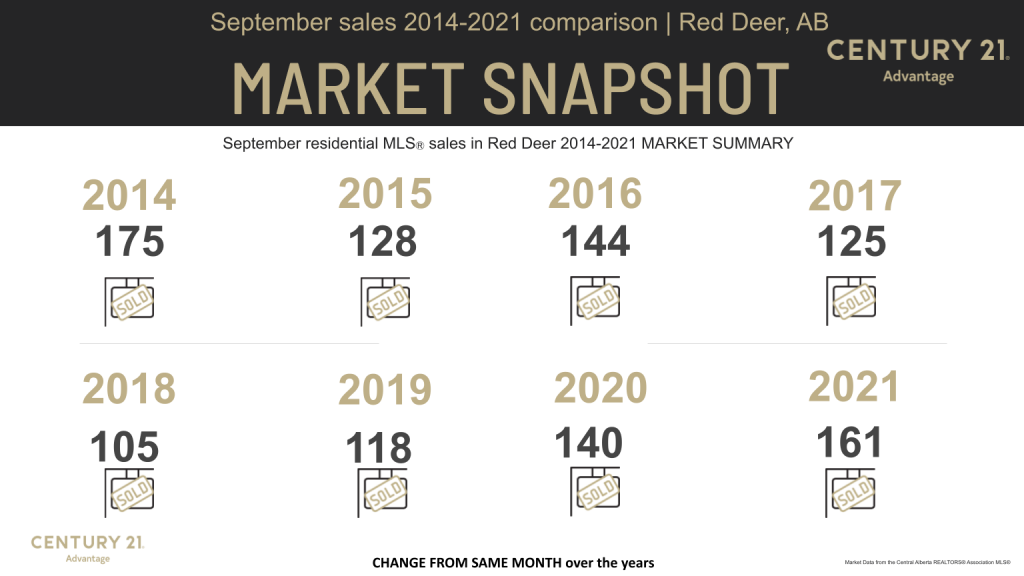 What does a Balanced Real Estate Market Mean?
It's more than an equation or ratio of 50/50 (50:50).  Where the Incoming listings (the supply) meet the demand or sales volume with respect to real estate listings.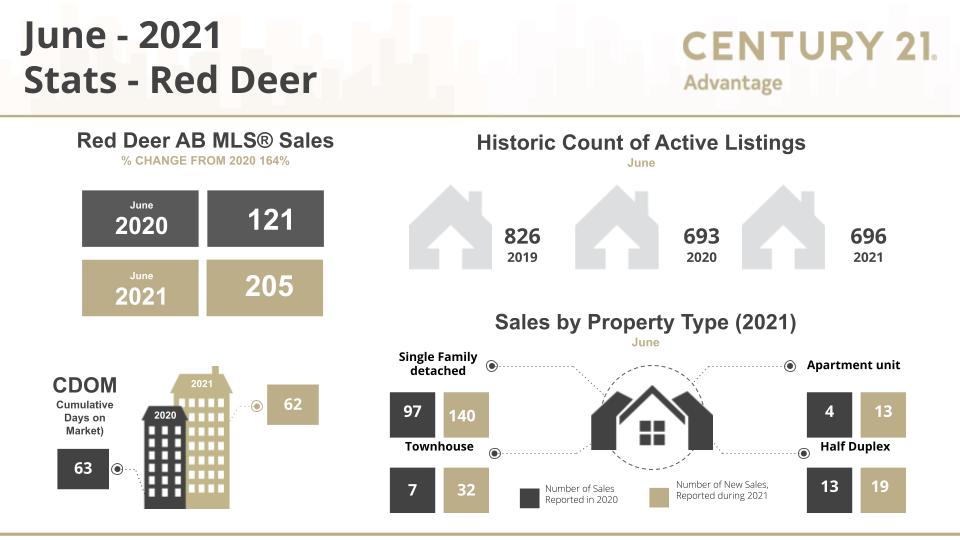 In June the number of "new listings" that came on the market as new, this also would include "relists", was 326 residential real estate listings in Red Deer.   The demand or sales volume for June 2021 was 205.  As a percentage one could say that 62% of the"new" listings sold.  A little higher than 62% we would start entering into a seller's market more so.  However when we include the active inventory total the supply swells to 696 residential listings in Red Deer, and the demand of 205 sales would be just 30% of the listing inventory.  In other words, 70% of the listings do NOT sell.  Which was the case in June.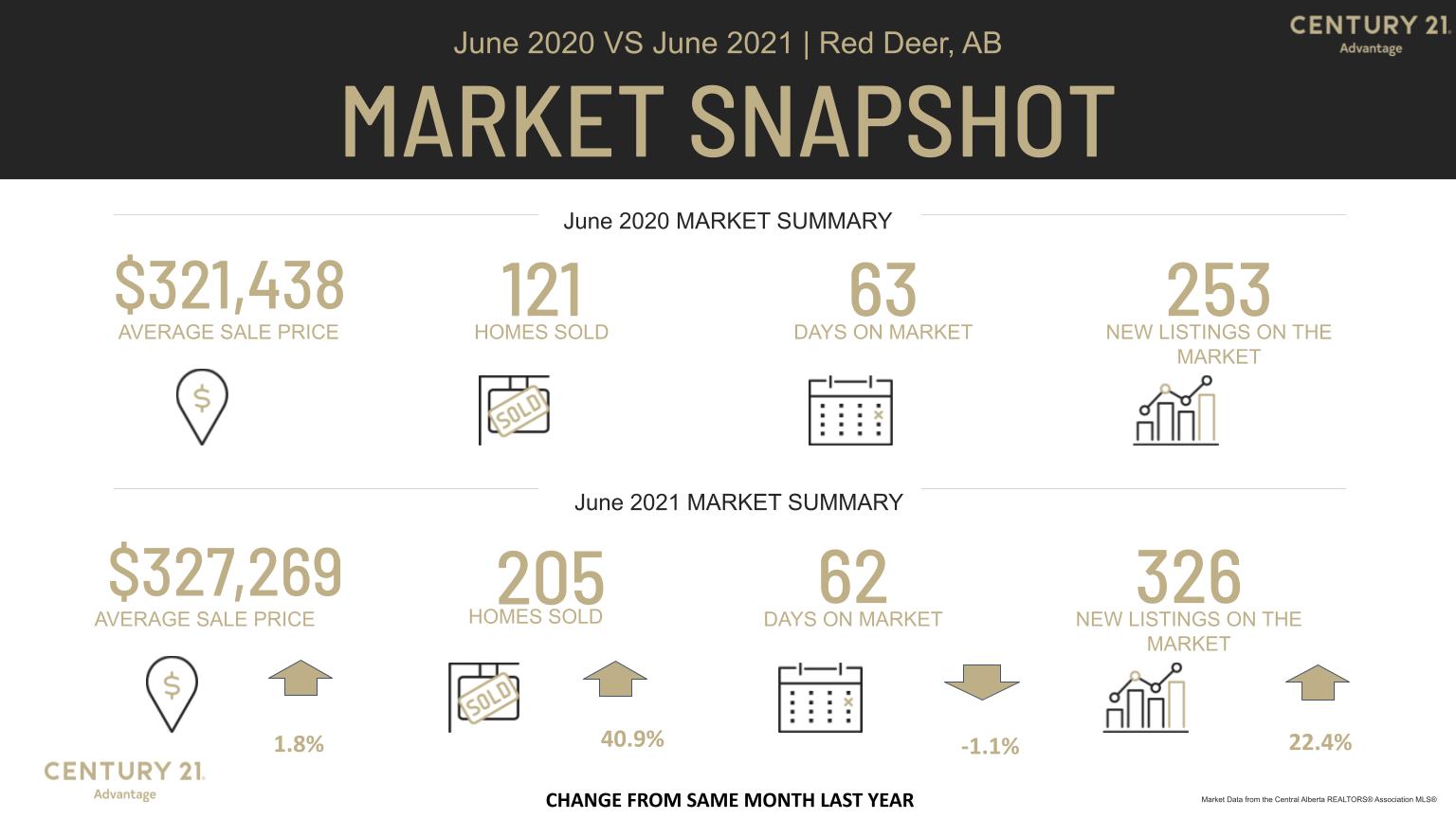 Despite all the media attention regarding a heated real estate market, this is a limited view of what actually is going on.  In the slides, you will notice that the June sales volume for 2021 was the highest since 2014.  Which is a very positive reflection of buyer confidence, and overall economic strength in the area.  Things are looking up.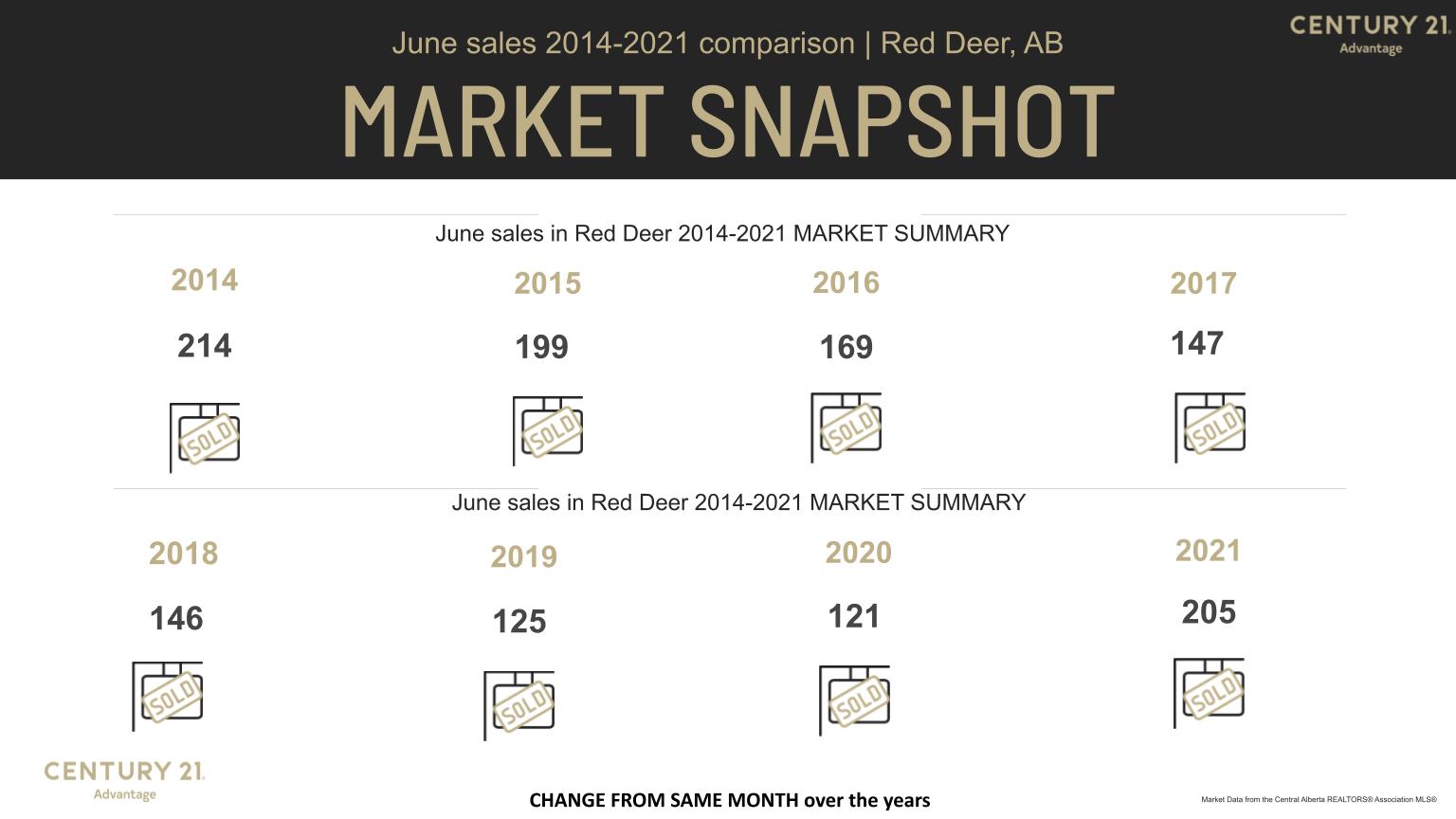 The typical "spring" market bump is more elongated this year.  We've seen a strong April and May, and June is following that same trend.  As buyers, you will notice some product types and price ranges are selling faster than others.  This is due to the number of listings in that particular price range.  Most likely the "hot market" is actually a sweet spot near the average price for the area or month.  In this case, the average single-family home sale price was $376,207.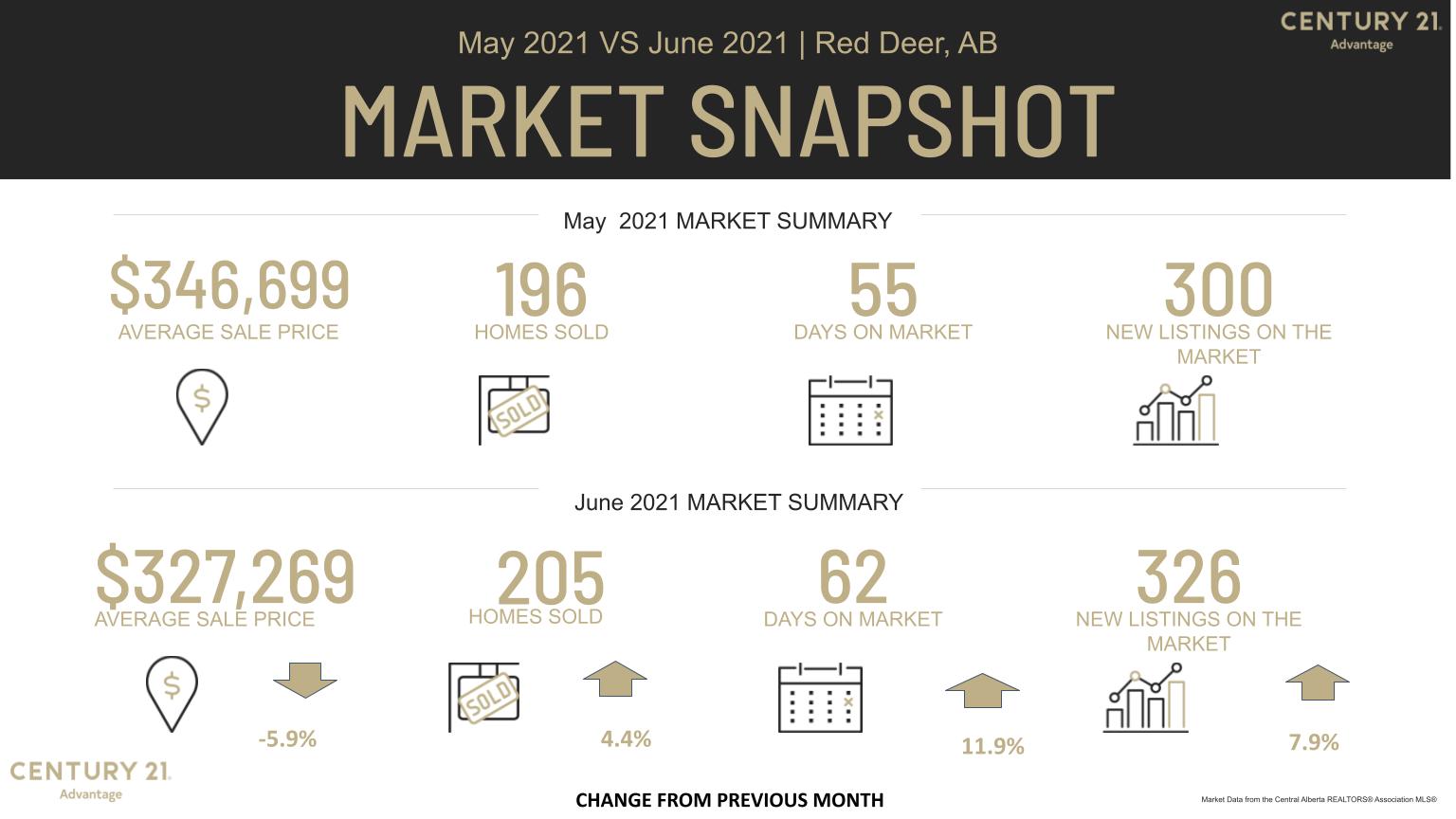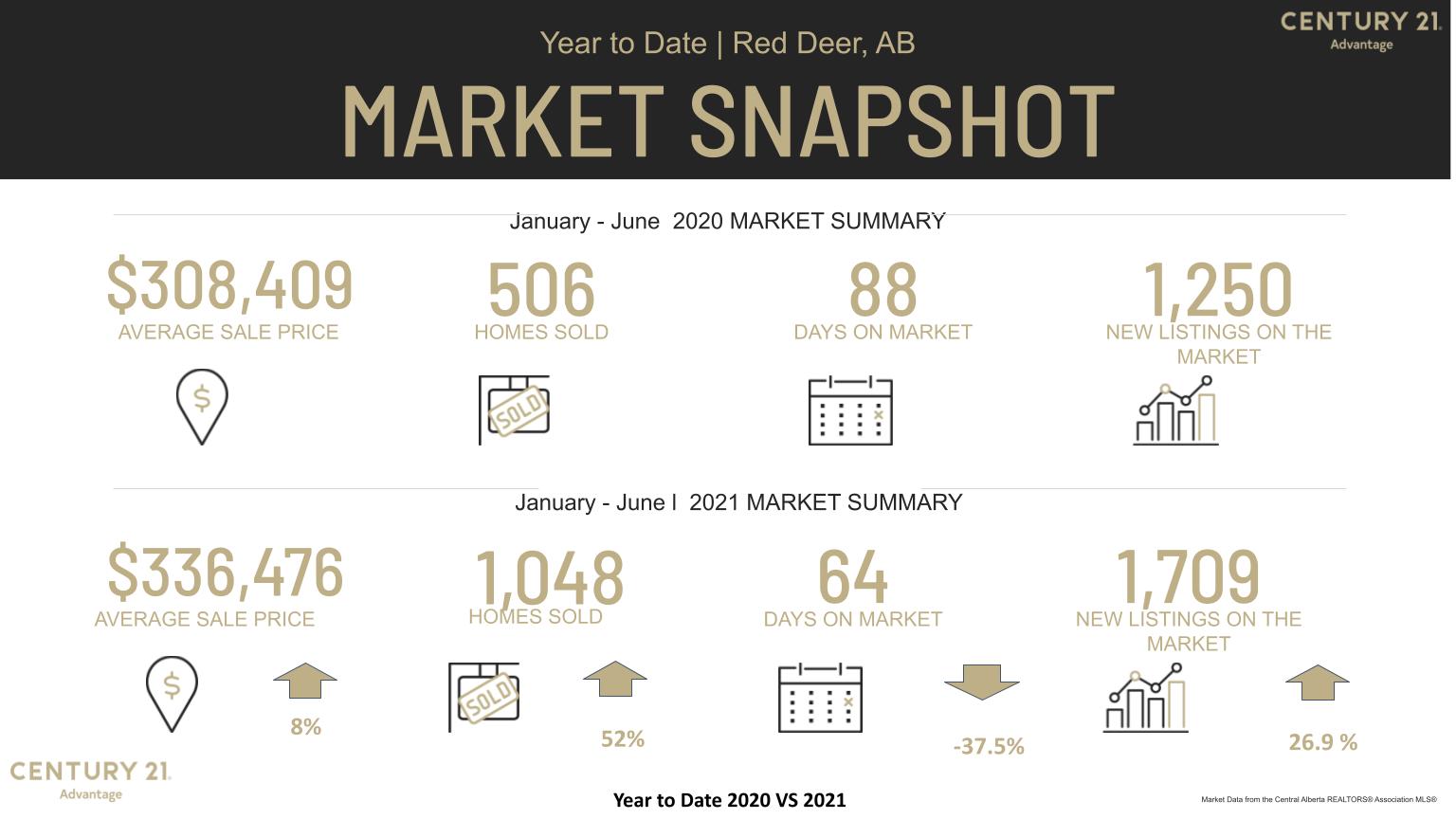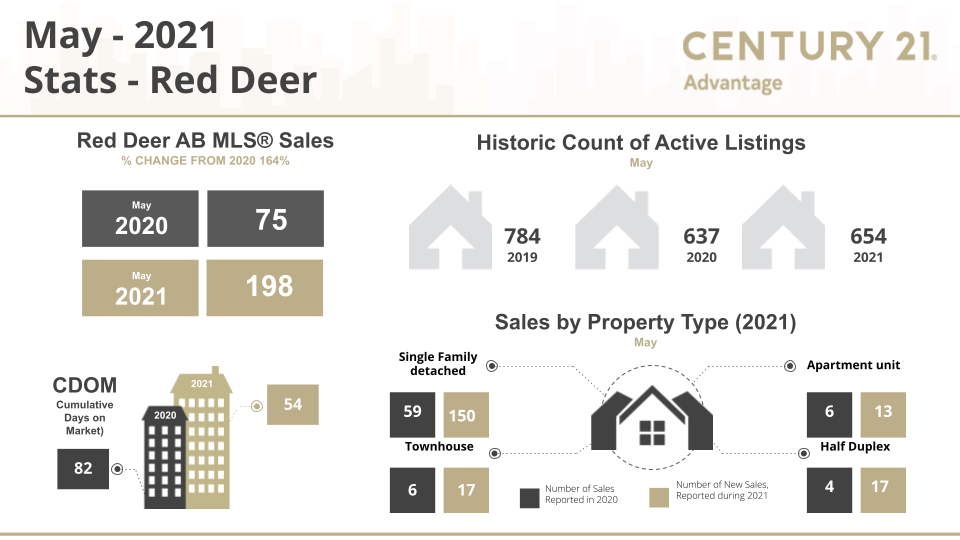 The Red Deer MLS® real estate market continues to roll and is a balanced market.  Some properties are experiencing multiple offers and very "hot" demand, but this is not widespread across all property types or even all price ranges.  The overall real estate market in Red Deer has recovered substantially from 2020 and earlier.
Looking at the number of listings sold this year over 2020, the sales volume is up 164%.  This is deceiving or skewed.  Last May we like everyone else was knee-deep into our first lockdown and it was a heavy-duty one.  Everyone was nervous and scared about their job, business and health.  Very few people were contemplating a move.
Now, we're almost back to normal in many respects.  With that in mind, the real measure is comparing May to the previous year's month of May.
Yes, May 2021 is very good.  One of the best in the last 6 years for sure.  A positive result for Red Deer real estate and a confidence builder to buyers getting into the market or moving up, as well as those sellers that have been concerned about the previous decline.
If you have questions about selling or buying now, please feel free to reach out to one of our associates.  Contact Us Today
The Red Deer real estate market was on fire in April and is showing steady signs to continue this trend into May as well. Here is a detailed look at the inventory levels in Red Deer for detached homes, townhouses, apartments as well as half duplexes. If you are thinking of selling you will also see the average sold prices as well as the average days on the market per property type.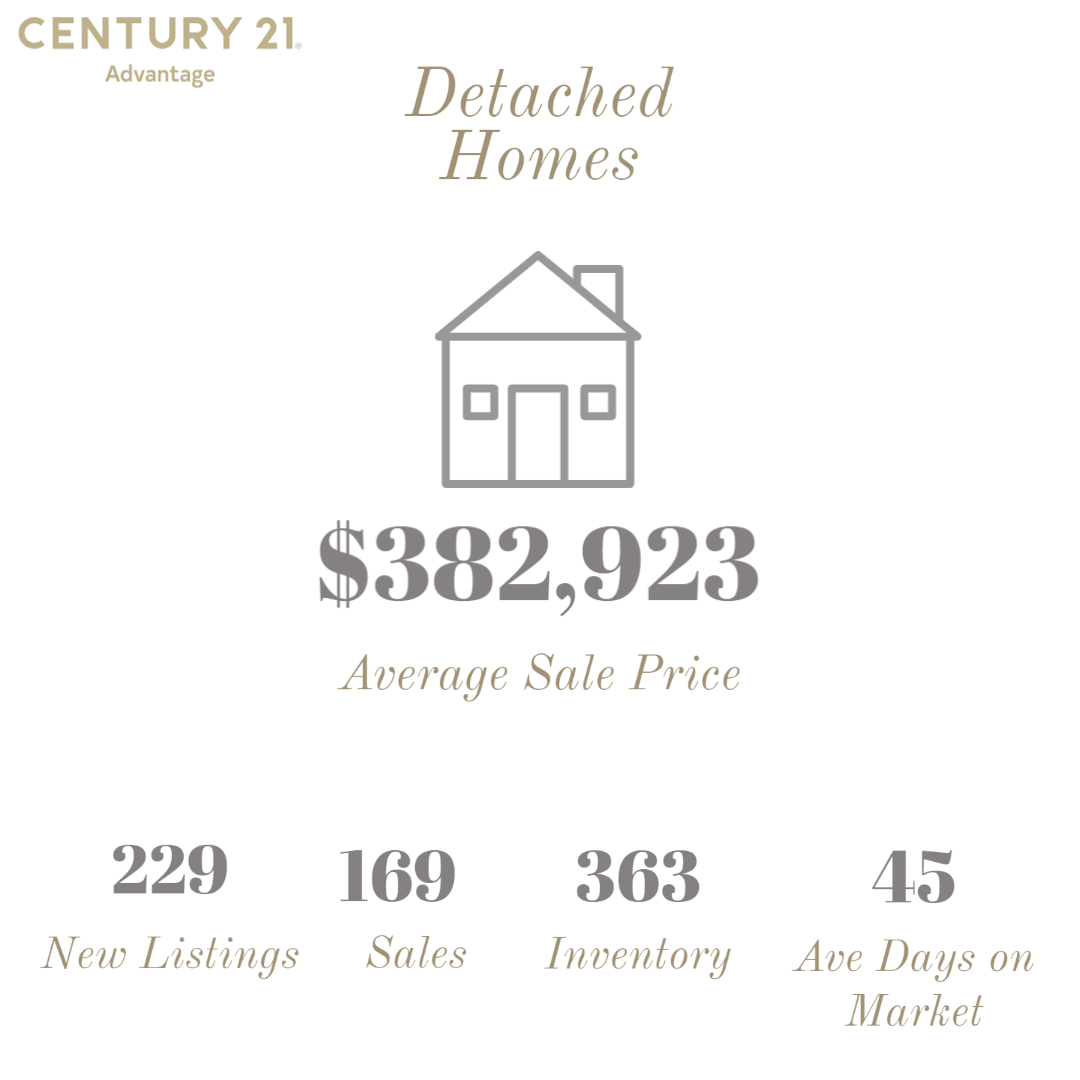 Detached homes remain strong as the dominant property type moving in Red Deer, with 169 being sold in April while 229 new listing's arrived on the market bringing the total inventory at the time to 363 properties.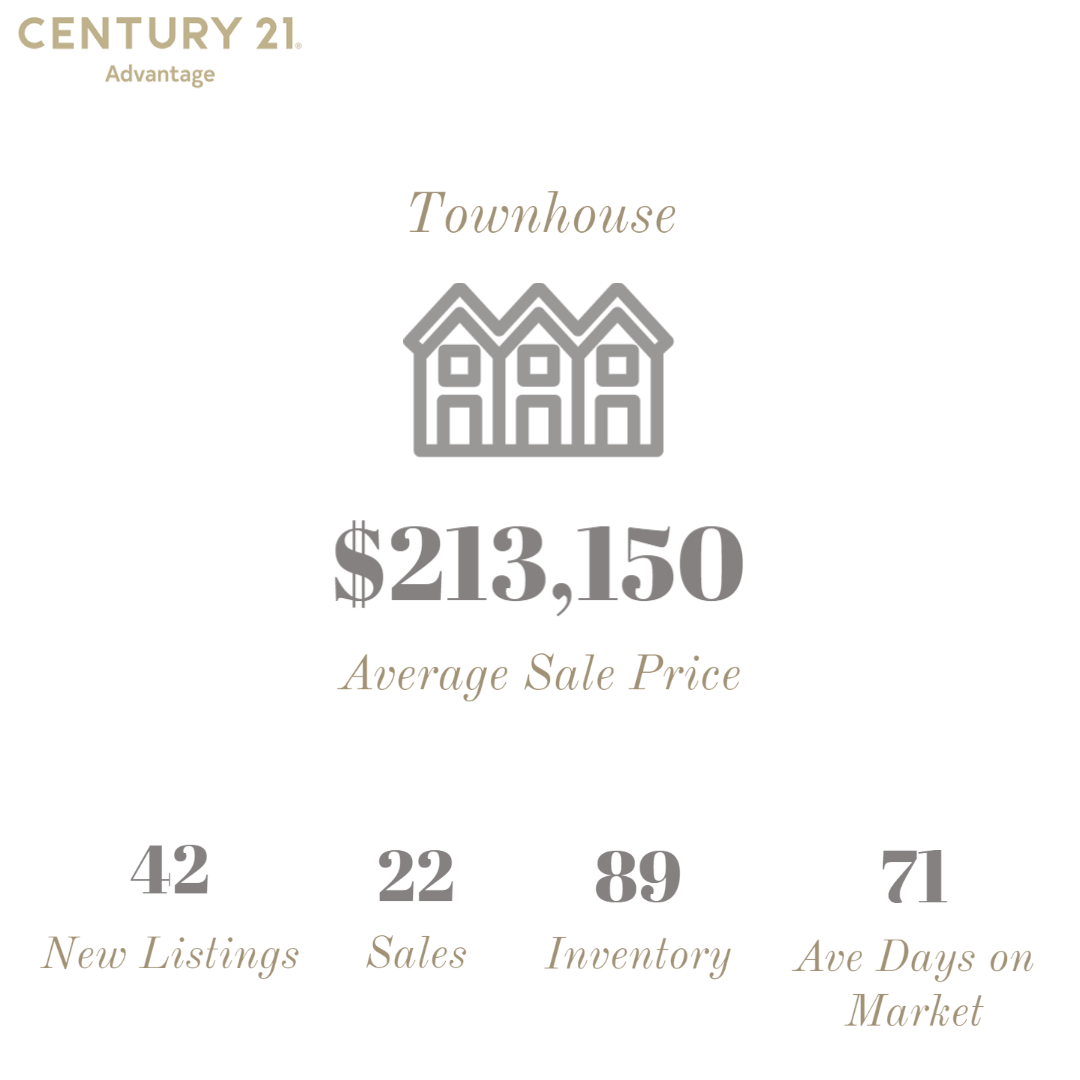 The next biggest seller in Red Deer are townhomes. 22 townhomes sold while 42 more hit the market bringing the total number of townhouses available in Red Deer to 89.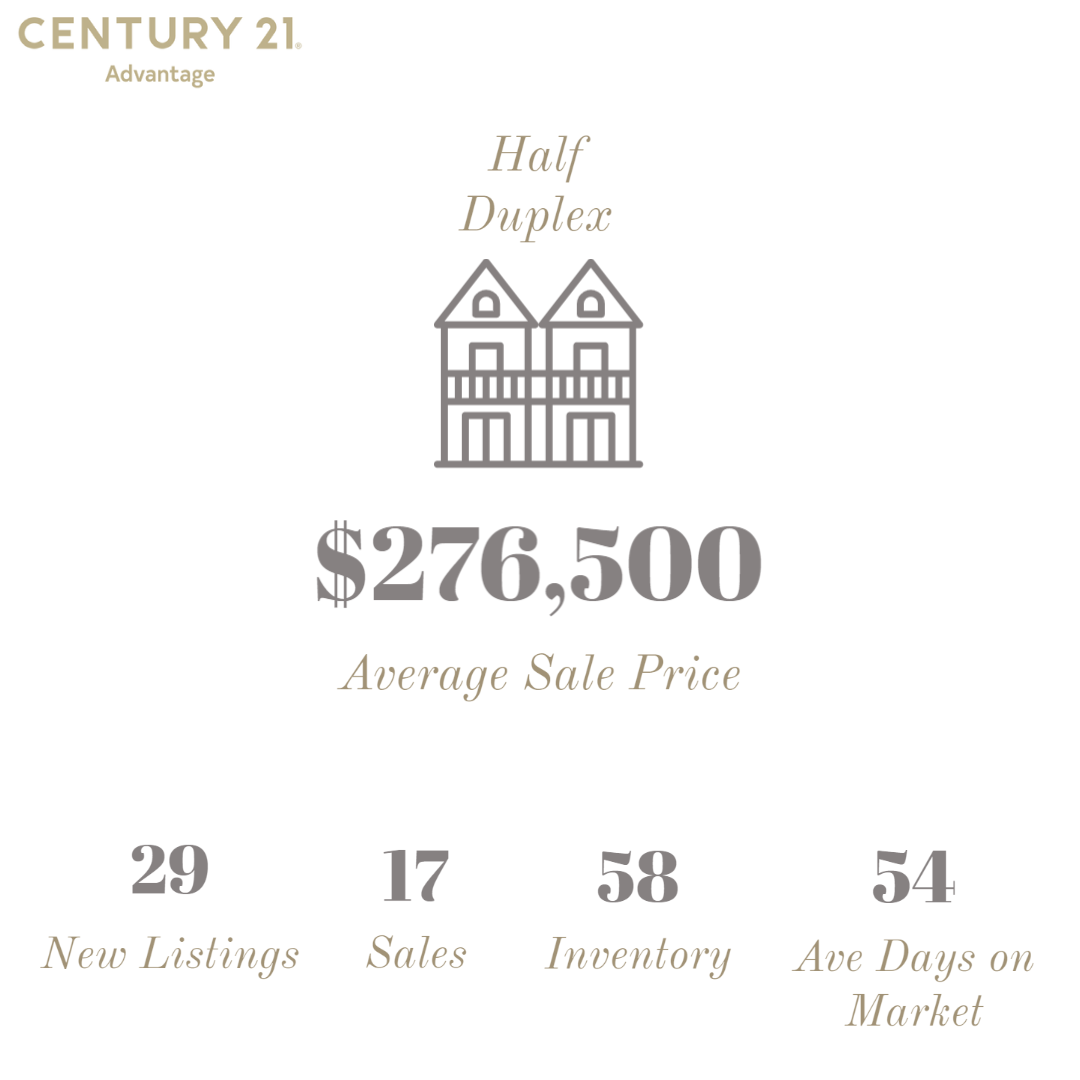 Half Duplex's remain very popular in Red Deer, seeing a slight month to month incline of sales, having 17 sold in April. Although new listings of half duplex's slowed down a bit with only 29 joining the market last month. With the average days to sell for half duplex's being only 54 days, now is the ideal time to take advantage of our hot market!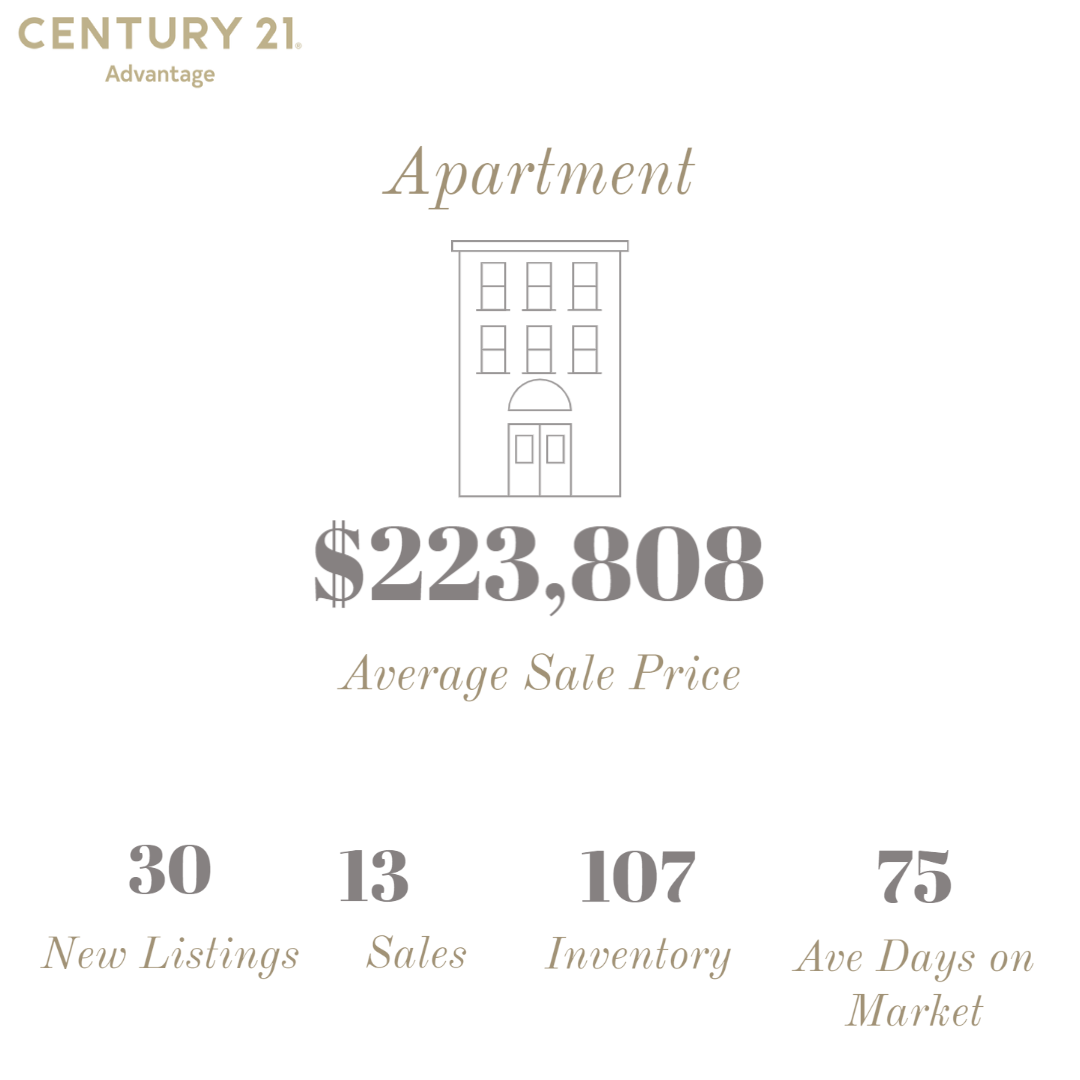 Apartments are beginning to move quite a bit more in Red Deer as 30 new listings hit the market in April bringing the total count of apartments on the market to 107.
If you are thinking of selling, now is definitely the time to get your house listed and take advantage of the heating up sellers market.
What a change it has been in the last year!
Mid-March, April and May we were pretty much CLOSED for business it seemed.  That was the beginning of COVID lockdowns, and there was a ton of apprehension and angst in the air about how are we all going to make it with our work, businesses and well everything closed.
No need to dwell on what you've already lived through.  You know all that.  Where are we know and is it Red HOT?  Yes and No.  It is certainly a better market than last year.  In many instances, 2021 in real estate is the most robust year we have seen in Red Deer MLS since 2014!
Here are the numbers…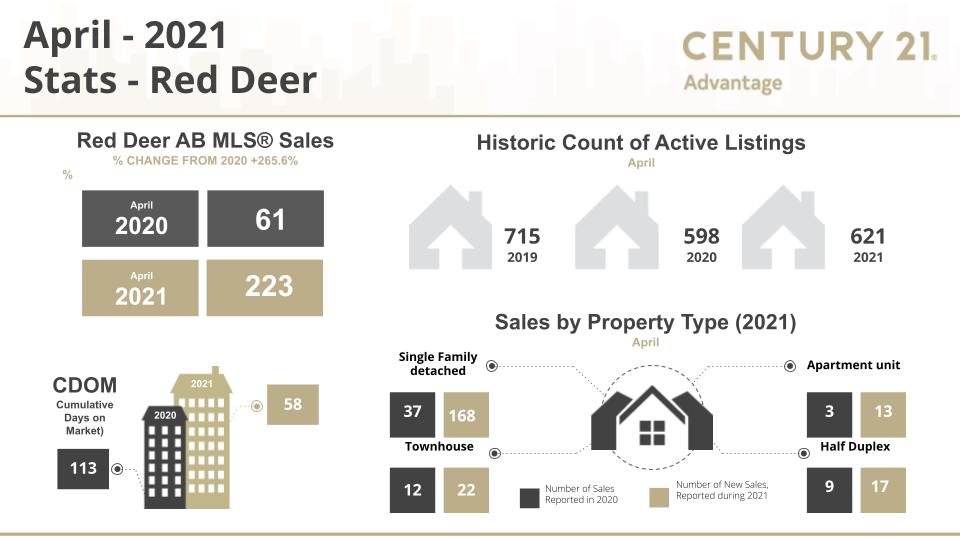 Red Deer remains a predominantly Single Family Detached House Market.   The sales volume looks like it is through the roof, however, keep in mind 2020 was terrible in April.    It is therefore very important to look at things a little broader if we can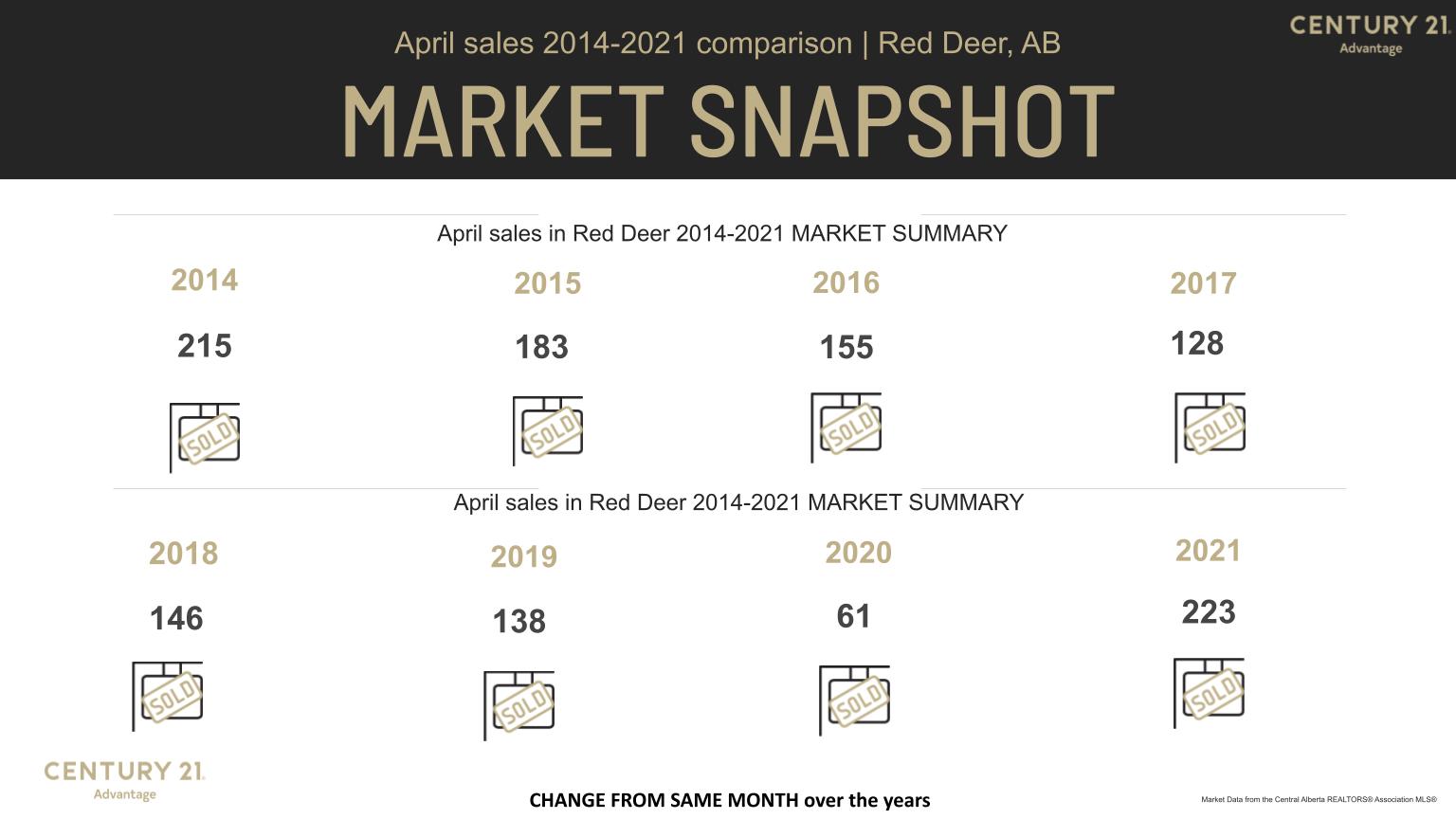 Sales Volume for April was the strongest we have seen since 2014.  However NOT Red Hot super sky-high as one might expect to listen or reading the news reports.  It's way better than the previous 5 years but closer to being on par with 2014 levels.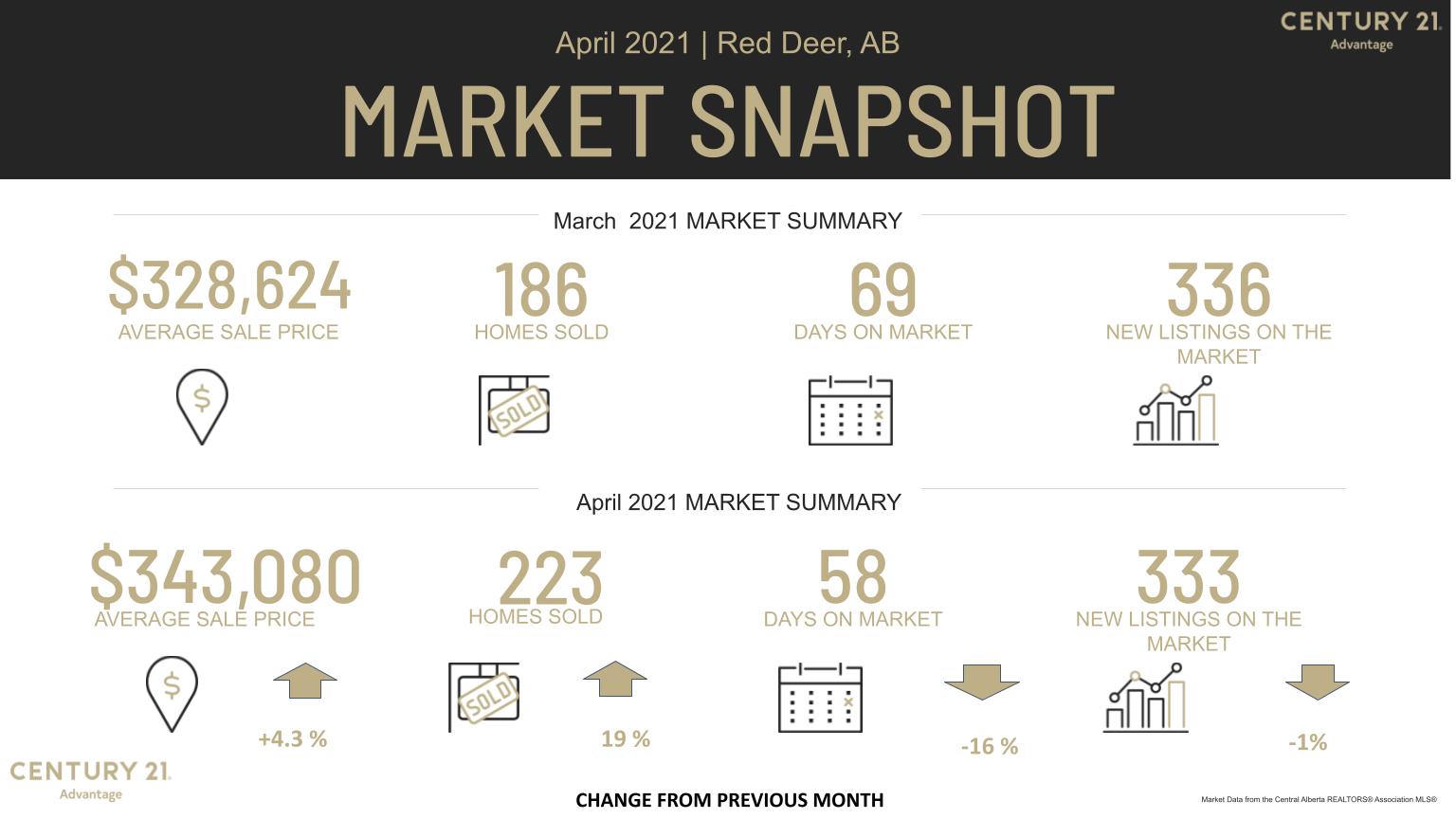 The market is trending up when looking at where the numbers were in March 2021 versus April 😃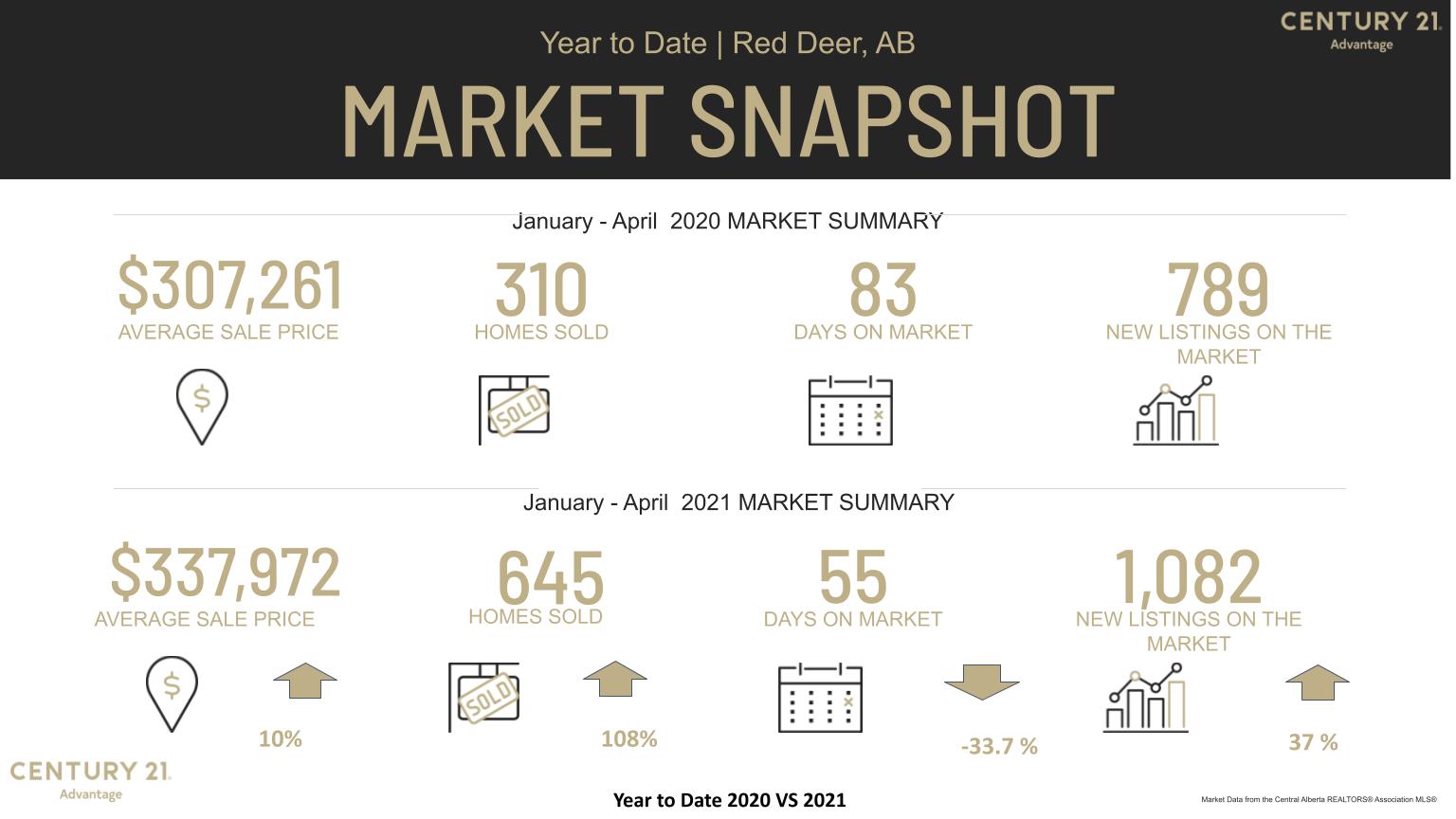 What a difference a year makes.  See the MASSIVE change from total lockdown to our current environment..