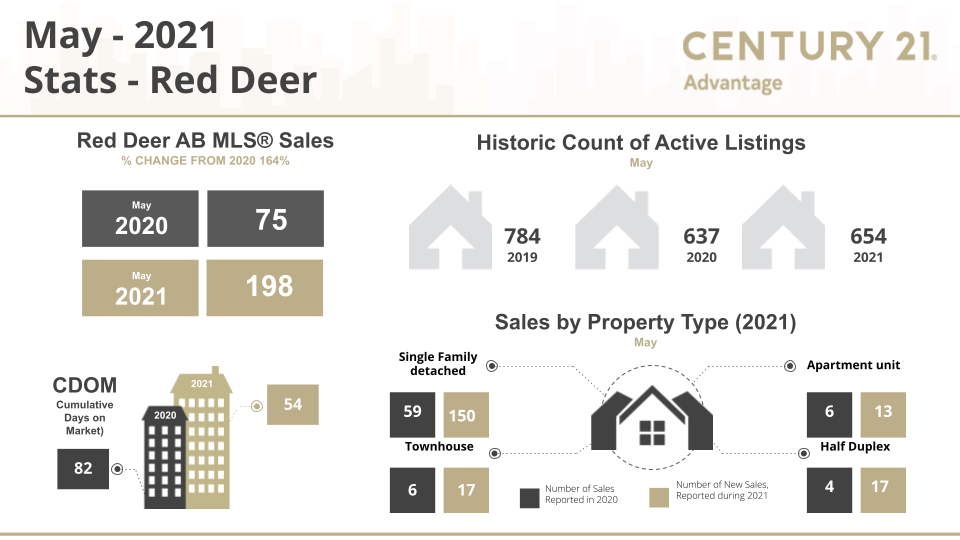 The Red Deer MLS® real estate market continues to roll and is a balanced market.  Some properties are experiencing multiple offers and very "hot" demand, but this is not widespread across all property types or even all price ranges.  The overall real estate market in Red Deer has recovered substantially from 2020 and earlier.
Looking at the number of listings sold this year over 2020, the sales volume is up 164%.  This is deceiving or skewed.  Last May we like everyone else was knee-deep into our first lockdown and it was a heavy-duty one.  Everyone was nervous and scared about their job, business and health.  Very few people were contemplating a move.
Now, we're almost back to normal in many respects.  With that in mind, the real measure is comparing May to the previous year's month of May.
Yes, May 2021 is very good.  One of the best in the last 6 years for sure.  A positive result for Red Deer real estate and a confidence builder to buyers getting into the market or moving up, as well as those sellers that have been concerned about the previous decline.
If you have questions about selling or buying now, please feel free to reach out to one of our associates.  Contact Us Today